Let's have a close look at AWeber, what the advantages and disadvantages are of using this very popular solution provider.  In this AWeber Review we will examine what solutions and tools they offer and what makes them so sure that we can "grow and engage" our audiences. 
In a nutshell, they provide solutions for designing and sending HTML e-newsletters, Lead Generation Forms, Landng Pages, Automated Response Services etc. In addition, they offer great training built on their decades of experience.
AWeber Review
Thank you for visiting my site to have a look at the AWeber Review
It brings me pleasure to bring AWeber Review to you because it allows me an opportunity to share some of my learnings with you and, all going well, create a smoother path ahead for you.
Let's get into it.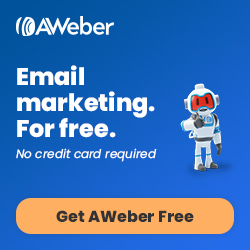 AWeber At A Glance:
NAME: AWeber
WEBSITE: aweber.com
PRICE: From Free up to $149 (depending on the size of your subscription list)
OWNERS: CEO Tom Kulzer founded AWeber back in 1998
FOUNDED: 1998
OVERALL RANK: 9 OUT OF 10
The Good & the Bad
The Good:
Pro #1 Easy to use
Pro #2 Has a very large library of templates
Pro #3 Award-Winning customer service – they have won awards for good reason
Pro #4 Pricing is competitive
Pro #5 Allows the choice of subscribing people to your list on more than one opt-in basis
Pro #6 Great Import functionality, with a wide range of file types plus add the email address being direct to an autoresponder cycle
Pro #7 Integrates with a wide range of apps and third-party tools
Pro #8 Very easy to set up time-based autoresponders
Pro #9 Responsive email templates
Pro #10 Very good reporting features available
Pro #11 New Free Plan (launched July 2020)
The Bad:
Con #1 Lower-priced options available
Con #2 When sending an e-newsletter you cannot exclude or include multiple segments at one time
Con #3 Some templates could be updated
Who is AWeber For?
AWeber is tailored for businesses and entrepreneurs and is utilized by online marketers in small to medium businesses. 100 000+ businesses, entrepreneurs, agencies, and non-profits are clients of AWeber. They offer great training facilities which means that entry-level people are on-boarded in no time at all. This email marketing platform also offers facilities for much more advanced users to take advantage of their skills and make use of the product at an expert level.
Here are some ideas of who can enjoy the benefits AWeber offers:
Affiliate Marketers,
eCommerce Businesses,
Bloggers,
Content Marketers,
Local marketers and businesses
Online businesses and marketers
NGO's and fundraisers
Agencies
Pretty much anyone who is communicating to a database or list via email marketing

AWeber Tools & Training
AWeber offers a very broad range of tools and training. The best part is that their training and customer support make it an easy transition for anyone from the outset.
The tools offered by AWeber are substantial, you can expect the following:
Email Automation                                * Email Split Testing
Autoreponders                                    * HTML Email Templates
Integrations                                         * Landing Pages
Sign Up Forms                                    * Email Analytics
Subscriber Segmenting                       * Subscriber Management
Email Newsletters                               * Drag & Drop Editor
Email Marketing API                           * AWeber Mobile Apps
Email Deliverability                              * Customer Solutions
Blog Newsletters                                 * Education Hub
Exclusive Partner Offers                     * Customised Template Design
Free Webinars
AWeber is a highly user-friendly platform, you certainly do not need to be highly technical to use it. Take me for an example, not a highly technical person and I managed to connect the platform to this site and install the Lead Generation Form – without having to watch any extensive training. The step-by-step process was easy to follow, Now that I have the Lead Generation Form in place, I will be working on the following – email marketing!  As you can see AWeber really does address absolutely everything you need to know about!
.
Training within AWeber
There is an extensive amount of training available with AWeber, in the form of videos, blogs and free live webinars. The challenge I personally have with this is, I am a prolific learner and simply do not have as much time to study as I would like. Nevertheless, whatever challenge you face with AWeber, there is training available to guide you through. Not only the training, remember, also the award-winning customer service and experts available to assist you when you need – 24/7!
AWeber Pricing – find One That Fits Your Budget
$29 per month for 501 to 2500 subscribers
$49 per month for 2501 to 5000 subscribers
$69 per month for 5001 – 10 000 subscribers
$149 per month for 10 000 to 25 000 subscribers
As for a Quote 25 001+
AWeber offers discounts as follows:
14% if you pay quarterly
14.9% if you pay annually
They also offer some discounts for students and non-profits
Copied below is a list of all the services they offer with each of the options, you will notice that every facility is available at every level, the difference in price is based on how many subscribers you are communicating with. It's awesome to see beginners not being penalized for lower numbers for a change, this is a rarity in online businesses, at least that has been my experience. Except for my Number One Recommendation when it comes to Affiliate Marketing companies. More about that later (or you can click on the link and have a look now).

AWeber Mobile App Suite
If you are anything like me, you are keen to see how a campaign is performing literally in real time, well AWeber has you covered on that score too. Down their Mobile App Suite and you can monitor and adjust your campaign as required – whilst you are on the go! I value the idea of freedom, geographic and financial freedom, so just the idea of this truly does appeal to me!
NAME: AWeber
WEBSITE: aweber.com
PRICE: FREE Starter trial for 1 month
$29 per month for 501 to 2500 subscribers
$49 per month for 2501 to 5000 subscribers
$69 per month for 5001 – 10 000 subscribers
$149 per month for 10 000 to 25 000 subscribers
Ask for a quote for 25 001+ subscribers
DISCOUNTS OFFERED: 14% if you pay quarterly and 14.9% if you pay annually
DISCOUNTS ALSO AVAILABLE: to students and non-profit organizations
OWNERS: CEO Tom Kulzer founded AWeber back in 1998
FOUNDED: 1998
OVERALL RANK: 9 OUT OF 10

My Final Opinion of AWeber
Based on research, AWeber has held its ground as a worthy competitor to the likes of iContact, MailChimp, Getresponse, and Mad Mimi. To be fair, I shall be writing reviews on the competitors too.
Back to the company in question, AWeber, they offer superb service in that their entire product is available to clients, regardless of how small your subscriber list is (let's face it, we all must start somewhere). This is unlike some of their competitors who restrict the number of e-newsletters you can send for example. What does change is the pricing, the bigger your subscriber list, the higher your rate.  Makes perfect sense to me. What are your thoughts on this?
Their training and customer service is exceptional, the fact that they have won customer service awards is evidence of just how good their service is. I don't usually do this in reviews but I would like to bring your attention to their awards, they have consistently won awards since 2015, in each year up to and including 2021. That is certainly worthy of acknowledgment:
I also particularly like the culture of the company, it makes me think of how Microsoft has been portrayed over the years. This appeals to the free spirit in me:
I think it is pretty clear to see why they win awards so consistently. The team onboard can only deliver that way if they are engaged, happy, well rewarded, and acknowledged … you know, the usual drill that makes an employer a choice employer.
Speaking of which, AWeber is that too. Let me not digress, we are here to evaluate the product and service they offer.
Based on my own experience, research among colleagues in the Affiliate Marketing and in the Online Business world. AWeber gets a very big thumbs up from me!
If you are keen to start with the Aweber Free Plan, it doesn't make sense to join as a paying member right off the bat, especially not when they are offering you a FREE Plan. Go for it and let me know what your experience is.  Looking forward to hearing from you!
Before I go, you know of course that I am an Affiliate Marketer, so my disclosure here is that I am an Affiliate for AWeber.  When you click on the link that I provide and sign up as a paying customer, I benefit from a commission from AWeber. Please be assured, this makes no difference to the price you pay.  AWeber's pricing as I have detailed in this Review is their standard pricing model.
Not only am I an Affiliate for AWeber, but I am also a client – you can rest assured that I am recommending their products and services based on my experience as their client.
One Last Thing …
One last thing before I love and leave you – it would be remiss of me to not share more about what how I am building a business online and creating the life of my dreams – one of geographic and financial freedom, plus a life that allows me to make a difference in the lives of others.  You can read about that right this exciting business opportunity in my Wealthy Affiliate Review.
When it comes to building an online business, not only Affiliate Marketing but Online Stores, Blogs, you name it, this is my:
If you are looking to create a life of freedom – to be able to afford to choose where you live, how & where you work, AND be free of debt have a look at this:
** Disclaimer – this is not a get rich quick scheme, it requires a lot of hard work, determinations, and persistence!   But it does afford you the opportunity to build your own online business!
Only do this is if you are serious:
serious about no longer being a slave to time in the office,
serious about no longer commuting for far too long every day of your life,
serious about no longer reporting into a boss (who may or may not be a great person)
serious about creating a life of FREEDOM
I have written an in-depth article if you need more information about this incredible Online Business Opportunity.
Look forward to seeing YOU on the inside!
Blessings!