Crazy question – right?
Why would anyone ask How To Retire On No Money? Well, they may just be heading towards retirement age (or even hoping to retire early) and not have the money to do it. No-one actually wants to retire with no money, this question reverberates around the minds of many who are not financially prepared for retirement – and it's imminent!
We just need to look at the Baby Boomers (the last of whom are heading toward retirement now, yes, me included) who are known to love life and spend money, which means many have not necessarily saved or planned adequately for retirement.
Let's not knock the Baby Boomers though, they are also known for many great traits according to an article entitled 8 Important Characteristics of Baby Boomers as seen in learningindustry.com, lets take a look:
Strong work ethic
Self-Assured
Competitive
Goal-centric
Resourceful
Mentally focused
Team oriented
Disciplined
Realities Facing the Baby Boomers
I found another article from www.cnbc.com speaking about the Baby Boomers facing a retirement crisis due to little savings, high health costs and unrealistic expectations. https://www.cnbc.com/2019/04/09/baby-boomers-face-retirement-crisis-little-savings-high-health-costs-and-unrealistic-expectations.html. According to this article, baby boomers are not well-prepared to retirement because they haven't accounted well for "the three legs of the retirement stool", namely:
Social Security
Private Pensions
Personal Savings
The article continues with the following points:
Only 23% of baby boomers (aged 56-61) expect income from a private pension plan
35% of older boomers expect a pension
45% of Baby Boomer have nothing in savings for retirement
According to the Insured Retirement Institute, these are the numbers given in response to "What will you do if you run out of money?"
Downsize and live on Social Security – 58 per cent
Return to work – 37 per cent
Ask children for assistance – 6 per cent
Just to put things into perspective, here are some more facts about the very industrious and hard-working Baby Boomers:
* born between 1946 and 1964, which makes them now aged between 55 and 73.
* 47% of them are already in retirement.
In real numbers, we are speaking about 34 million retired Baby Boomers who do not have the finances to see them to their expected life span of 95 years!  Don't stress though, we have a solution – I encourage you to read on …
So, what now?

How To Retire On No Money [& Still Make Money To Enjoy A Great Retirement!]
It's clear that we cannot retire on no money at all, and looking at the above three solutions, whilst 58% are happy to downsize and live on Social Security, 37% are going to return to work.
How likely is it that people will find employment in retirement? After all, they are competing against younger contenders for the jobs, not only younger but better educated too. If we have a look at the graph below, from pewresearch.org, we can see that the following generations, namely Gen X and Millennial, are better educated than the Baby Boomers. Of course, the Baby Boomers have more experience to offer and that may work to their advantage.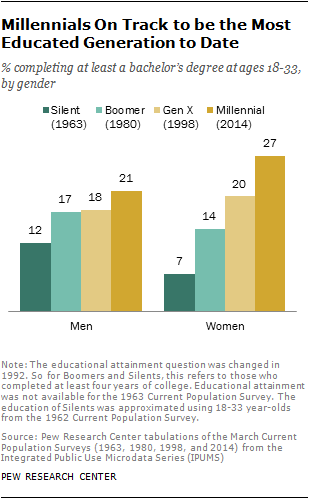 Then we have our energy levels to consider too. From the outside, one would expect the energy of a 22-year old to far exceed that of a 55+ year old. Interestingly that is not necessarily the case according to an article I found in the Dailymail.co.uk , research says that energy levels peak at age 31 and we have another boost of energy at 55 years of age! The challenge with that is that the boost is apparently due to people around 55 looking forward to their retirement.
(For interest's sake, the same article says this of the Millenials: "Busy social lives, late nights and a pretty poor diet can mean people in their 20s are left feeling lacklustre." Yeah, I remember those days well, lol!)
Carrying on looking at the competition in the workplace, the same Dailymail.co.uk article goes on to say that 31 is the age that people have the most energy and they put this down to being at their happiest, looking after themselves better and having young children to run after. I would surmise then that this is the generation we can expect to be the hardest working too – they have the energy and the reason (their young families).
This leaves even the youngest of Baby Boomers at a disadvantage when it comes to the workplace.
So what are the solutions then? Taking into consideration that Baby Boomers are not the best prepared for retirement, and that they do not want to rely on their children, with 37% looking to return to the workplace which may not be accommodating, how does one generate an income to retire on in their 50's?
The Online Business World! Yes, that's right, the opportunities are huge and the playing field is totally equal! How so?
No need to compete with Gen X and Millennial for jobs in the workplace
It does not matter what working experience you have (or don't have)
Your age is not an issue
Work for as long as YOU want – no retirement age
No specific degree, diploma or even high school required
No matter how much time you have spent out of the workplace (due to parenting for example), you still qualify
Your gender does not matter
No matter what race or religion you are, this is an equal opportunity
Advantages of Running Your Own Online Business
Work from home (even in your pj's if you fancy haha!)
No need to spend hours on end in commuting to and from the office
You choose your field and ideally opt to work within a field you are passionate about! No matter whether it's running, sailing, art, travelling – you name it, the opportunity exists for you to build your business within a niche you choose (don't know what a niche is? Read all about it in an article I wrote, especially for you, What Is A Niche Website About? ).
Work from anywhere in the world – yes, you can travel and work too!
Low start-up costs, all you need is a computer, and access to the internet
Disadvantages of Running Your Online Business
Yes, there are disadvantages but I am thinking that if you, like me, are a Baby Boomer – you are already streaks ahead of everyone! What this means is that you will overcome these disadvantages with ease!
It takes hard work – a lot of hard work
You will need to be self-disciplined and self-motivated
The likelihood is that you will need training
It takes time – this is not a get-rich-quick scheme
If we glance back to the first paragraph in this article, we know that you already have everything it takes to build your successful online business. Remember, Baby Boomers traits are: Strong Work Ethic; Self-Assured; Competitive; Goal-centric; Resourceful; Mentally Focused; Team Oriented and Disciplined. All that is missing is the knowledge of the online business world (which just takes training to get you up to speed) and patience for the time it will take.
Speaking about the amount of time it takes to get your business up and running, according to an article in startups.com, "it takes at least 4 years to get pointed toward a real business, and I'd argue it takes 7-10 years to make your startup truly the success that you had in mind when that idea came to you."
The online business model I am talking about here does not have to take that long, it is dependent on your work ethic and dedication. Of course, you could drag it out and aim for the Guinness Book of Records Longest to Launch Online Business Award if you chose to, but taking 4 years to get your online business off the ground with the training I am recommending is highly unlikely!
Allow me to share just three of the many success stories with you:
How Long Does It Take To Make Money – here is an article written by a successful member of our community, Jerry Huang, he pulls no punches and tells you exactly what you can expect in terms of time and effort.
What A Year Can Do 2017 vs 2018 – written by our own hard-working and humble LittleMama who describes herself this way: "I am just a stay home Mom, guys"
Success Stories 2018 – written by Nat, a lovely lady who started out in this business in 2015.
Not one of these people have taken as much as 4 years to "get pointed toward a real business", never mind the "7-10 years"!
How Can You Make This Happen?
How can you go from where you might me right now, "No Money To Retire" to reaching the place of more than enough so that you can "Enjoy A Great Retirement"?
In a word – Affiliate Marketing! To become an Affiliate Marketer you will need the following:
Promote Offers
You can learn how to do ALL of this in one place! You learn at your own pace, involve yourself in the community as much (or as little as you desire) and you build your online business! Of course, it is more complicated than those four steps, but there is excellent training and superb support all available to you!
Not only that, you get to try the opportunity out for FREE! That's right, a FREE Membership Package allowing you a good look at everything involved!
Not ready yet? Still, need more information? No problem, I have prepared this Wealthy Affiliate Review especially for you! I too needed more information before I committed, but once I had started my Free Starter Membership. it was a matter of 3 or 4 days before I signed up as a Premium Member. The best part, you will still have access to join as a Free Starter Member!
I hope you have enjoyed reading my article and that you now have confidence in the future. You have options available to you, this one can give you a great retirement!
Join me today – you won't be sorry! Yes, I shall be on the inside waiting to greet you and welcome you onboard!
Blessings
PS Yes, that is me – Louise, aka Late Bloomer – I find it helps to put a face to the words 🙂 See YOU on the inside!